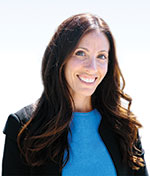 Lisa D. Westman
Author and Educational Consultant, Lisa Westman Consulting
Lisa Westman has over 15 years of experience as a teacher (gifted humanities, English Language Arts, social studies), and as an instructional coach specializing in differentiation. Lisa is a currently a writer, consultant, and speaker, working with school systems across the country to effectively implement student-driven differentiation, standards based learning, and instructional coaching programs. Lisa is passionate about teaching and learning; she is dedicated to effecting change which positively impacts both student and educator learning.
Lisa frequently presents for school districts and at educational conferences. She has presented at ASCD, Visible Learning, IAGC, ICE, IETC, ILASCD, The Gifted and Talented Consortium of Wisconsin CESA 7, and ICIC. Lisa is a frequent opinion contributor to EdWeek, EdWeek Teacher, Corwin Connect, and her personal blog, Put Me In, Coach. This is her first book.
Lisa is married to an educator, the parent of a third-grader and a sixth-grader, enjoys destressing at the Bar Method, loves music and the City of Chicago!