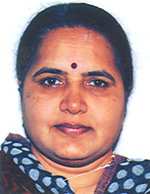 K. Jayanthi
Senior Deputy Editor, Frontline, The Hindu Group of Publications, Chennai
Jayanthi Krishnamachary,
co-editor of this volume, is a senior Editor in print journalism with over three decades of experience. An alumnus of Madras Christian College, she has an MA in English and holds a postgraduate diploma in journalism.
She started her career in journalism with a brief stint in the Mail in Chennai. She moved to Bengaluru in 1981 to join the Indian Express where she left an indelible impression as desk chief, at the mofussil desk and news desk.
She moved to the Indian Express, Chennai, in 1990, where she rose to the position of Deputy News Editor. In addition to her various responsibilities on news desk, she edited Expressweek, a weekly supplement, and the cinema and culture pages. Jayanthi joined Frontline in 1998, where she is presently a Senior Deputy Editor. She has attended the Neiman Foundation's Conference on narrative journalism. She is currently pursuing her doctoral degree in English.