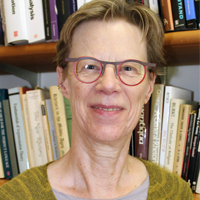 Barbara Johnstone
Carnegie Mellon University, USA
Barbara Johnstone
is on the faculty of the Rhetoric Program at Carnegie Mellon University, where she teaches courses in discourse analysis, sociolinguistics, style, and research methods. She is currently Editor of the journal
Language in Society
, and I am working on a project about the enregisterment of dialect in Pittsburgh. Professor Johnstone is interested in the connections between discourse and place and in the role of the individual in language and linguistic theory.
Barbara Johnstone's previous work has been in these areas:
Discourse structure and function:
forms and functions of narrative; women's and men's narrative; functions of repetition in discourse and their implications for linguistic theory; cross-cultural study of rhetorical discourse; current work on the individual voice in linguistic and rhetorical theory, on the rhetorical construction of place and local identity through discourse about local speech in Pittsburgh.
Sociolinguistics:
Regional/social variation in discourse structure and strategy; interactional sociolinguistics; ethnography of communication; gender and regional variation in discourse style; methodology in qualitative sociolinguistics; current work on urban North Midland English in Southwestern Pennsylvania. Editor, Language in Society,2005-present.
Rhetoric, history and theory:
Persuasive talk; cross-cultural study of persuasive styles in the U.S. and the Middle East.