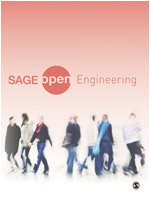 SAGE Open Engineering
---
---
eISSN: 20503113

|

ISSN: 20503113
Frequency: Continuous
SAGE Open Engineering marked Open Access Week with this Exclusive Podcast: Listen Here!

Defining engineering it in its widest possible terms, SAGE Open Engineering will be the first broad-spectrum Open Access journal providing a vehicle for the publication of high quality research in all areas of engineering.
Papers will be subjected to rigorous peer review but will be selected solely on the basis of whether the research is sound and deserves publication, not on whether it fits a narrow focus within engineering, or is of interest to a specific readership only.
The inclusive nature of the journal will lend itself to papers of both a multi-disciplinary and inter-disciplinary nature but all engineering research will be considered provided authors can demonstrate that their work contributes to the academic narrative in some way.
Areas covered will be:
Interdisciplinary Engineering
Aeronautical Engineering
Biomedical Engineering
Chemical Engineering
Civil Engineering
Electrical and Electronic Engineering
Environmental Engineering
Materials Science
Mechanical Engineering

Why publish in SAGE Open Engineering?
Rapid but rigorous peer review, and quick decision times
Open Access dissemination of your article via the SAGE Journals platform, powered by Highwire
High quality copyediting, typesetting and presentation of your article
Continuous publication online
An introductory Article Processing Charge (APC) of 495 USD/310 GBP, discounted from the full rate of 995 USD/620 GBP, is available for a limited time. The APC is payable upon acceptance and subject to VAT* where applicable.
Authors retain copyright by using the Creative Commons By Attribution (CC BY) license
Manuscript submissions will be handled simply and efficiently online through SAGE Track: http://mc.manuscriptcentral.com/sageopenengineering

Open Access FAQs
Please direct any enquiries to SOE@sagepub.com.
*If the paying author/institution is based in the European Union, to comply with European law, Value Added Tax must be added to the APC. Providing a VAT registration number will allow an institution to avoid paying this tax, except for UK institutions. An invoice will be issued in GBP.
Journal URL: https://uk.sagepub.com/en-gb/eur/sage-open-engineering/journal202145 http://journals.sagepub.com/home/seo