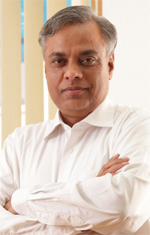 V. Kumaraswamy
Columnist, Business Line and Business Standard
V. Kumaraswamy did his schooling in Chennai and later graduated from IIM Ahmedabad in the 1980s, where he studied under some of the leading economists of India. The institute encouraged freedom of thought by its unique system of pedagogy. Both the tutelage under illustrious teachers and the system have encouraged him to experiment boldly while writing his columns in economic newsdailies.

He has been working with the industry since the mid-1980s. His corporate work in search of natural resources takes him to several remote rural areas in India and abroad. The unconventional ideas and insights in several parts are born out of first-hand experience during such sorties. He enjoys travelling and loves talking to people at various strata in remote areas here and elsewhere which has given him unique insights and helps him get into the core of some of the key issues affecting them.

He has been writing on reforms and economic policies in economic dailies such as Business Line and Business Standard for well over a decade which has honed his skills as a writer.

This is his second book. The first book Corporate Insurance published by Tata McGraw Hill was co-authored with his wife Sharada. Both his wife and daughter have dabbled in writing for magazines.

He can be reached at blueprint12percent@gmail.com.
.