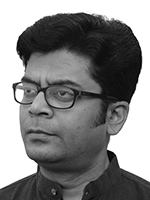 Suptendu P. Biswas
Architect, Urban Designer and Planning Professional
Suptendu P. Biswas
is an architect, urban designer, and planning professional involved in teaching, research, and consultancy. He is a graduate from B.E. College (IIEST), Shibpur, and is a postgraduate and doctorate from the School of Planning and Architecture (SPA), New Delhi. He works on built environment, urbanism, spatial equity, and sociology of culture.
Dr Biswas is a recipient of the National Scholarship from Government of India and Senior Fellowship from Ministry of Culture, Government of India.
He is one of the partners of VSPB Associates, an Architecture, Urban Design, and Landscape firm in New Delhi, as well as a Visiting Faculty in postgraduate planning courses at SPA, New Delhi. He is also one of the founder trustees for the Trust for Sustainable Education and Action in Architecture (SEARCH), based at Kolkata and New Delhi.
Dr Biswas has taught in top institutions in Delhi NCR for one and a half decadeincluding SPA, Sushant School of Art & Architecture, and GGS Indraprastha University. He also has a number of significant publications in journals and newspapers on architectural and urban issues, and has made presentations at national and international symposia too. In a professional career spanning more than two decades, his projects have been presented, published, and exhibited in India and abroad.