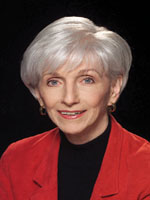 Shirley Moos Hord
Learning Forward
Shirley M. Hord, PhD, is the scholar laureate of Learning Forward (previously National Staff Development Council), following her retirement as Scholar Emerita at the Southwest Educational Development Laboratory in Austin, Texas. There she directed the Strategies for Increasing Student Success Program. She continues to design and coordinate professional development activities related to educational change and improvement, school leadership, and the creation of professional learning communities.
Her early roles as elementary school classroom teacher and university science education faculty at The University of Texas at Austin were followed by her appointment as co-director of Research on the Improvement Process at the Research and Development Center for Teacher Education at The University of Texas at Austin. There she administered and conducted research on school improvement and the role of school leaders in school change.
She served as a fellow of the National Center for Effective Schools Research and Development and was U.S. representative to the Foundation for the International School Improvement Project, an international effort that develops research, training, and policy initiatives to support local school improvement practices.
In addition to working with educators at all levels across the U.S. and Canada, Hord makes presentations and consults in Asia, Europe, Australia, Africa, and Mexico.
Her current interests focus on the creation and functioning of educational organizations as learning communities and the role of leaders who serve such organizations. Dr. Hord is the author of numerous articles and books, of which a selection of the most recent are: Implementing Change: Patterns, Principles, and Potholes, 3rd ed (with Gene E. Hall, 2011); Reclaiming Our Teaching Profession: The Power of Educators Learning in Community (with Edward F. Tobia, 2012); A Playbook for Professional Learning: Putting the Standards Into Action (with Stephanie Hirsh, 2012).