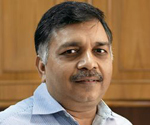 Pawan Agarwal
CEO, Food Safety and Standards Authority of India
Pawan Agarwal is serving as Adviser, Higher Education in the Planning Commission, where he has steered the formulation of the country's Twelfth Plan for Higher Education. He has earlier worked as Director in the Ministry of HRD and Financial Advisor, University Grants Commission.

He has been a Fulbright New Century Scholar at Harvard University/Emory University, a visiting scholar and fellow at ICRIER, New Delhi and the Centre for the Study of Higher Education in University of Melbourne. He is the recipient of the Emerging Leaders Fellowship of the Australia India Institute for the year 2011–12 and Bloomberg-UTV Policymaker of the Year, 2012.

He has conducted studies for the World Bank, the Asian Development Bank, the Association of Commonwealth Universities, the Inter-American Development Bank, the South Asia Network of Economic Research Institutions, the Observatory for the Borderless Education, and the Indian Council for International Economic Research. He has published on a range of higher education issues in India and comparative perspective in the South Asian context.

He has previously authored a book with SAGE India, titled Indian Higher Education: Envisioning the Future (2009).