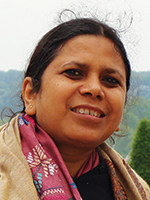 Neerja Singh
Department of History, Satyawati College, University of Delhi
Neerja Singh
is Associate Professor, Department of History, Satyawati College, University of Delhi. She did her PhD from Jawaharlal Nehru University, New Delhi, under the supervision of Professor Bipan Chandra. Recipient of UGC National Research Award, the author is a renowned academic and has published two books namely,
Gandhi-Patel: Letters and Speeches: Differences within Consensus and Nehru-Patel: Agreement within Differences
. She has participated in many national and international seminars and presented papers.