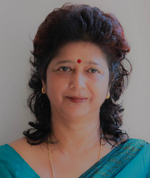 Meeta Deka
Department of History, Gauhati University, Assam
Meeta Deka
is Professor and Head of the Department of History at Gauhati University, Assam, India, where she teaches Colonialism, and Peasants' and Workers' Resistance in Modern India. She taught History at St. Anthony's College, Shillong, for 12 years (May 1985–August 1997), after which she joined the present institute. She is a Life Member of North East India History Association, Kamarupa Anusandhana Samiti (Assam Research Society), North East India Social Science Congress, Institute of North East India Studies, North East Indian Council of Social Science Research, Indian Association for Women Studies and Centre for Contemporary Theory.
Born in Shillong, Meghalaya, Deka completed her MPhil and PhD under the North Eastern Hill University, Shillong. Her specialization is in Modern Indian History and Northeast India. Her varied research interests are social movements, including student and peasant struggles, and Environmental and Gender History. Her publications include
Studen Movements in Assam
(1996), besides several papers in national and international journals.