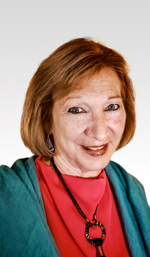 Margo Gottlieb
Margo Gottlieb
, a staunch advocate for multilingual learners and their teachers, has always envisioned multilingualism and multiculturalism
as cornerstones of education. As co-founder and lead developer of WIDA at the University of Wisconsin–Madison, over her career, Margo has been a language teacher, coordinator, bilingual facilitator, director of assessment and evaluation, and an international advisor. Having presented and keynoted across the United States and in 25 countries, she has worked with universities, organizations, governments, states, school districts, and schools in co-constructing linguistic and culturally sustainable educational policy and practice. Margo has been an invited blogger and speaker for virtual seminars, webinars, podcasts, book chats, and videos; in addition, she has enjoyed reviewing books, journal articles, policy papers, and grants.
Over the years, Margo's scholarship has focused on co-designing language development standards frameworks for WIDA, TESOL International Association, Guam, and American Samoa, reconceptualizing classroom assessment, coconstructing curricular frameworks for multilingual learners, and evaluating language policy. Margo has been appointed to national and state expert advisory boards and has been a Fulbright Senior Scholar in Chile, appointed to the US Department of Education's Inaugural National Technical Advisory Council, and was honored by TESOL International Association for her significant contribution to the TESOL profession.
Holding a PhD in Public Policy Analysis, Evaluation Research, and Program Design, Margo has published extensively, having authored, co-authored, or co-edited over 100 publications including monographs, guides, manuals, white papers, technical reports, articles, more than 30 chapters, encyclopedia entries, and 20 books. Joining
Assessment in Multiple Languages: A Handbook for School and District Leaders
(2022) and its companion,
Classroom Assessment in Multiple Languages: A Handbook for Teachers
(2021), she is proud to add this 3rd edition of her best-selling book to her Corwin compendium.