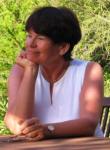 Lyn Richards
About the author
Lyn Richards has a highly unusual range of relationships with qualitative research. After undergraduate training as a historian and political scientist, she moved to sociology. Her early work as a family sociologist addressed both popular and academic audiences, with a strong motivation always to make the funded research relevant to the people studied, and the qualitative analysis credible to those affected. Each of her four books in family sociology was a text at university level but also widely discussed in popular media and at community level. During her tenure as Reader and Associate Professor at La Trobe University in Melbourne, she won major research grants, presented and published research papers, was a founding member of a qualitative research association and taught qualitative methods at undergraduate and graduate level, supervising Masters and PhD students.
She strayed from this academic pathway when challenges with handling qualitative data in her own studies led to the development, with Tom Richards, of what rapidly became the world's leading qualitative analysis software. They founded a research software company, in which for a decade Lyn was Director of Research Services, writing software documentation and managing international training of researchers and trainers in the methods behind the software. Designing and documenting software taught her to confront fuzzy thinking about methods, and to demand straight talking, clarity of purpose, detail of technique and a clear answer always to 'Why would we want to do that?' Teaching methods to thousands of researchers in dozens of disciplines in 14 countries, she saw what worked and what didn't. From those researchers, graduates and faculty in universities and research practitioners in the world beyond, she learned their many ways of handling data, on and off computers, and their strategies for making sense of data.
Handling Qualitative Data is a direct result of this experience. It offers clear, practical advice for researchers approaching qualitative research and wishing to do justice to rich data. Like her previous book, with Janice Morse, Readme First, for a User's Guide to Qualitative Methods it strongly maintains the requirements of good qualitative research, assumes and critiques the use of software and draws on practical experience of helping researchers whose progress has been hindered by confusion, lack of training, mixed messages about standards and fear of being overwhelmed by rich, messy data.
Throughout this hybrid career, Lyn continued contributions to critical reflection on new methods, as a writer and a keynote speaker in a wide range of international conferences. She has life membership of the International Sociological Association and its Methodology section. Her writing aims always to cut through barriers to high quality qualitative research and to assist researchers and teachers in making the inevitable shift to computing whilst maximizing the benefits for their research processes and outcomes. On leaving software development, she took an Adjunct Professorship at RMIT University, creating and coordinating an active, informal and splendidly supportive Qualitative Interest Group (QIG). She currently works from home, (online, of course), combining research advising with convening of an asylum seeker support group and growing roses and vegetables, all of which provide marvellous metaphors for qualitative research.