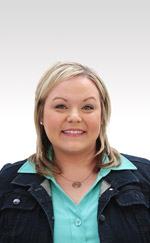 Jenna L. Evans
Pocono Mountain School District
Jenna Evans is a teacher in the Pocono Mountain School District with over seventeen years of experience in the classroom. Jenna has extensive knowledge of best practices in Early Childhood Education and she prides herself on delivering innovative, developmentally appropriate instruction that reaches all learners alike. Jenna is a leader in her profession, having served on a variety of committees that support Positive School-wide Behavior programs, Read Across America, technology growth and integration, and specialized school events. In addition, she serves on a collaborative writing team that continuously assesses and rewrites the Kindergarten English Language Arts (ELA) curriculum to ensure her school district is providing rigorous instruction that supports all of the PA Core Standards. Jenna is the co-author of the book Classrooms on the Move: Using Kinesthetic Furniture to Create a New Age of Learning.
Jenna received her Bachelor's Degree in Early Childhood Education from East Stroudsburg University and her Master's Degree in Classroom Technology from Wilkes University. She is the co-owner of her educational consulting company ActivEDge and is passionate about integrating kinesthetic education into the classroom. Jenna has formed an instantaneous bond with learning environments that balance movement, technology and innovative teaching methodologies to optimize student performance while educating the child as a whole. In combination with her teaching career, Jenna also dedicates her professional energy toward private consulting and freelance writing for specialized publications and graduate/undergraduate course design in the following areas: curriculum development, movement education, applied educational technology, differentiated instruction and classroom management.
Jenna's experience in technology integration and design, accompanied with her growing passion for kinesthetic education, ignites her desire to find a delicate balance between the two in her own classroom, while encouraging other teachers to consider the same. As she welcomes continued progress in her current occupation, Jenna is also excited about postsecondary opportunities to develop the future of her profession. When not advocating for positive change in schools, Jenna devotes her time to her family. A loving wife and mother to both a son and daughter, she enjoys spending her days in the organized chaos of raising children. She sneaks in date nights with her husband whenever she can, and together they enjoy movies, day trips, and quiet time at home. Jenna dedicates her efforts to her personal priorities and her professional goals without fail as she strives to continually grow and strengthen her aspirations.