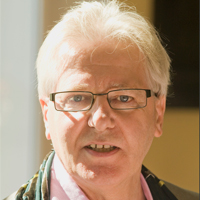 Jeff R Hearn
Huddersfield University, UK
Jeff Hearn is currently Guest Faculty Research Professor in the Humanities and Social Sciences, based in Gender Studies and the Centre for Feminist Social Studies, Örebro University, Professor of Management and Organization, Hanken School of Economics, Professor of Sociology, University of Huddersfield, and a UK Fellow of the Academy of the Social Sciences.
His recent research has focused on transnational change. He has been at the forefront of critical research on men and masculinities, and has published extensively on sociology, organizations, management, policy, gender, sexualities, violences, cultural studies, and autoethnography. His many books include: 'Sex' at 'Work' (with Wendy Parkin, 1987/1995); The Gender of Oppression (1987), Men in the Public Eye (1992); The Violences of Men (1998); The Handbook of Studies on Men and Masculinities (edited with Michael Kimmel and Raewyn Connell, 2005), European Perspectives on Men and Masculinities (with Keith Pringle and CROME, 2006/2009), Men and Masculinities in Europe (with Keith Pringle et al., 2006/2013), Sex, Violence and the Body (edited with Viv Burr, 2008), The Limits of Gendered Citizenship (edited with Elzbieta Oleksy and Dorota Golanska, 2011), Men and Masculinities around the World (edited with Elisabetta Ruspini, Bob Pease and Keith Pringle, 2011), and Rethinking Transnational Men (edited with Marina Blagojevic and Katherine Harrison, 2013). His latest book is Men of the World: Genders, Globalizations, Transnational Times (SAGE, 2015).
He is Managing Co-editor of Routledge Advances in Feminist Studies and Intersectionality book series, Co-editor of NORMA: International Journal of Masculinity Studies, and Associate Editor of Gender, Work and Organization. He was formerly Co-editor of Men and Masculinities for many years; Head of Applied Social Studies, University of Bradford; Research Professor, University of Manchester; Professor of Gender Studies (Critical Studies on Men), Linköping University; Professor II, Sociology, Oslo University; and has been Visiting Professor at many universities.
Jeff Hearn has been strongly involved in North-South and European research and policy collaborations, such as the CROME, CAHRV, genSET, GenPORT, and Study on the Role of Men in Gender Equality EU projects, as well as profeminist and related activism over many years.