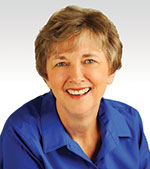 Elizabeth Dankert Sattes
Educational Consultant, Charleston, WV
Learn more about Beth Sattes' PD offerings
Beth Dankert Sattes
is a co-developer with Jackie Acree Walsh of Questioning and Understanding to Improve Learning and Thinking (QUILT), a nationally validated professional development program on effective questioning. They are also co-authors of
Inside School Improvement
(2000) and co-presenters of the Video Journal in Education series
Questioning to Stimulate Thinking
(1999). These two former classroom teachers have trained hundreds of administrators and teachers across the nation in effective questioning. Their other joint ventures have focused on creating effective professional development for educators, sharing leadership for continuous school improvement, and creating a culture for high-performance learning communities. A recent example of their work is the design and delivery of professional development for school improvement specialists—consultants or staff who work to develop the capacity of schools to improve achievement for all students. They have also developed professional development modules on improving school culture (for the Southern Regional Education Board) and leading learning communities (for the Alabama Leadership Academy). Beth Dankert Sattes holds a bachelor's degree in psychology from Vanderbilt University and a master's degree in early childhood special education from Peabody College. Both Sattes and Walsh have served as faculty for the National Staff Development Council's Academy.
Contact Beth Sattes at
beth@enthusedlearning.com
.