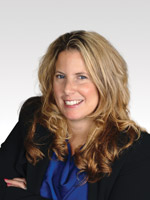 Carrie McDermott Goldman
Carrie L. McDermott Goldman, Ed.D., is Associate Professor, Coordinator of Graduate and Post-Graduate TESOL/ Bilingual Programs, and Director of Bilingual and TESOL Grants at Molloy College, Rockville Centre, New York. She teaches pre-service and in-service teachers equitable pedagogical approaches, research-and asset-based practices, and embedded language theory. Prior to higher education, she taught Pre-K - 12 in high needs settings and college-level ESL. She continues to collaborate with schools as an instructional coach and mentor for teachers and administrators. Throughout the pandemic, she also created and implemented an online teaching mentoring program.
She is involved in several projects. She co-authored and serves as the director and Principal Investigator for the New York State Grant for the U.S. Department of Education, Clinically Rich Intensive Teachers Institute in Bilingual Education and TESOL (CR-ITI BE/ESOL) for $550,000 over 5 years to meet the growing needs of MLLs throughout the region. Her most recent works include, "Co-Taught Integrated Language and Mathematics Content Instruction for Multilingual Learners," co-authored chapter with Andrea Honigsfeld in Effective Teacher Collaboration for English Language Learners: Cross-Curricular Insights from K-12 Classrooms (Yoon, Ed., 2021); "Positive outcomes for ELs in an Integrated Social Studies Class," co-authored with Andrea Honigsfeld in Co-teaching for English learners: Evidence-based practices and research-informed outcomes (Dove & Honigsfeld, Eds., 2020); "Classroom Management for Culturally and Linguistically Diverse Learners" co-authored with Lisa Peluso in Approaches to Classroom Management for Diverse and Inclusive Schools (Alcruz & Blair, Eds., in press) and "Preparing Social Studies and ESOL Teachers for Integrated Language and Content Instruction in Support of ELLs with Andrea Honigsfeld and Kelley Cordeiro in Teaching History and Social Studies to English Language Learners: Preparing Pre-service and In-service Teachers (de Oliveira & Obenchain, Eds., 2018) and "Preparing Science Teachers for Project-based, Integrated, Collaborative Instruction" co-authored with Andrea Honigsfeld in Teaching Science to English Language Learners: Preparing Pre-service and In-service Teachers (de OIiveira & Campbell Wilcox, Eds., 2017), and "Culturally Responsive Teaching in a Secondary, Integrated Mathematics Class" (2021) in New York State ASCD Impact Journal.