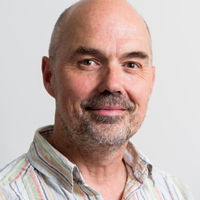 Chris Beckett
University of East Anglia, UK
Chris Beckett qualified as a social worker in the 1980s, and worked in the field for 18 years, first as a social worker and then as a manager, latterly as the manager of a children and families social work team. Like most social workers who qualified at that time, he started out as a 'generic' social worker, working with a range of service users including children and families, old people, and people with mental health problems and disabilities, but his predominant area of work was with children and families.
He moved into academic social work in 2000, working first at Anglia Ruskin University in Cambridge and then at the University of East Anglia in Norwich. In addition to his social work text books, he has published academic articles on a variety of topics including the use of military language in social work, the importance of realism as an ethical principle, and statistics from Sweden about child abuse, following the legal ban there on corporal punishment. His main research area, however, has been decision-making in court proceedings about children, and decision-making about children more generally.
Chris has a parallel career as a writer of literary science fiction. (More information about his fiction can be found at www.chris-beckett.com.) He won the Edge Hill Short Fiction prize for his story collection, The Turing Test, and the Arthur C. Clarke award for his novel Dark Eden. He is now a full-time writer. His view is that 'academic' and 'creative' writing have more in common than might at first sight appear: in both cases the author begins with a jumble of ideas that seem to him to be in some way linked together, and attempts, in large part by a combination of intuition and trial and error, to impose some shape and structure.
Chris has three adult children, and lives in Cambridge with his wife Maggie and sundry animals.