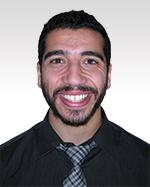 Joseph J. Ferrito
Graduate School of Applied and Professional Psychology, Rutgers University, Social-Emotional Learning (SEL) Lab
Joseph J. Ferrito
recently earned his doctoral degree from the Graduate School of Applied and Professional Psychology at Rutgers University. He is a native of Monroe Township, New Jersey and a graduate of Marist College where he majored in psychology. Clinically, J.J. trained and worked across levels of care ranging from public schools and in-home services, to residential and inpatient treatment facilities. His clinical work has focused on children, adolescents and families, particularly those who have been exposed to various traumatic experiences. He completed an APA-accredited internship at Sharp HealthCare in San Diego, California and is currently a post-doctoral fellow at the Audrey Hepburn Children's House at Hackensack University Medical Center in New Jersey.
Throughout his graduate training, J.J. taught several undergraduate courses and conducted research under the mentorship of Dr. Maurice J. Elias through the Social-Emotional Learning (SEL) Lab at Rutgers University. Developing feasible methods for assessing SEL and related skills in schools has been a focus of this research and this work has generated several publications in various forms. J.J. hopes to continue this work and combine it with his interest in trauma and resiliency to enhance evidence-based methods of prevention and promotion on a national and international level.
Take a look at a review on The Other Side of the Report Card, published by the New Jersey Association of School Psychologists here.